Christopher Gist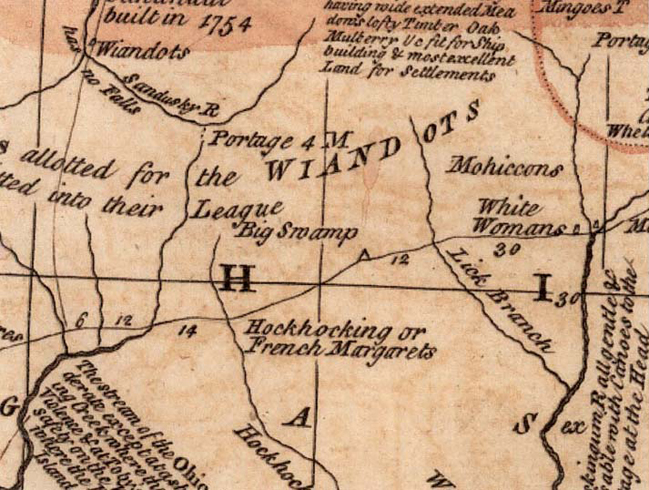 Wednesday 16.--Set out SW 25 M to Licking Creek--the Land from Muskingum to this place rich but Broken–

Upon the N Side of Licking Creek about 6 M from the Mouth, are sevaral Salt Licks, or Ponds,formed by little Streams or Dreins of Water, clear but of a blueish Colour, & salt taste

the Traders and Indians boil their Meat in this water which (If proper Care not be taken) will make it too salt to eat.

Thursday 17.--Set out W 5 M, S W 15 M to a great Swamp.

Friday 18.--Set out from the great Swamp S W 15 M.
From the journal of Christopher Gist
Such is the description of Buckeye Lake circa 1751 by Christopher Gist who is believed to be the first European to visit the region. An explorer, surveyor and frontiersman, he was born about 1706 in Maryland to Richard and Zipporah Gist. Gist was commissioned to explore the Ohio Valley by the The Ohio Company, a group consisting primarily of Virginia planters, interested in the fur trade and land speculation.
Gist provided England and its colonists with the first detailed description of southern Ohio and northeastern Kentucky, preceding his North Carolina neighbor,Daniel Boone into the area, by more than fifteen years.
Around 1750, The Ohio Company selected Gist to survey along the Ohio River from its headwaters near, modern-day Pittsburgh, (Shannopin's Town) to what is now Louisville, Kentucky. That winter Gist mapped the Ohio countryside between Shannopin's Town to the Scioto River. There he crossed into Kentucky and eventually returned to his home. During the winter of 1751-1752, Gist returned to the Ohio Country and explored much of modern-day West Virginia. Gist complete journal may be accessed by clicking on the PDF.
Gist returned to the Ohio Country, this time with George Washington, in the winter of 1753-1754.